Recordings and live streaming management
Recordings and live streaming management¶
If requested at booking time, Vconf allows you to broadcast a live streaming and / or video record the session through GARR.tv. To enable these features, simply check the respective box in Advanced tab of the booking form.

Requesting these features consist of transmit a RTMP streamfrom Pexip to GARRtv. In case of live streaming or video recording, or both simultaneously, a GARRtv user will enter automatically the room. Streaming enabled banner warns of active transmission.

Note
If video recording or live streaming is requested and the GARRtv user is not in the virtual room, contact technical support.
Note
In Webinar mode, Guest users will not see the Streaming enabled notification banner during live streaming or video recording.
Content access¶
You can find the URL of live streaming or video recording in the booking page of your personal area.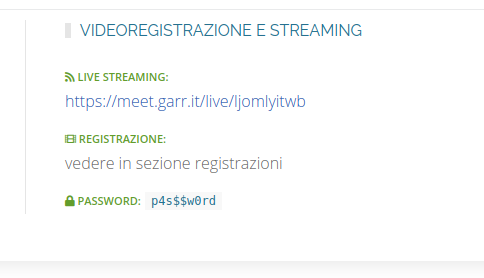 You can play videorecording directly on GARR.tv, or download it.

Live streaming or video recording visibility¶
By default, live streaming and video recording are configured as unlisted, that is not listed on GARRtv public pages, but accessible only via direct URL.
In addition, live streaming and video recording can be protected by a password configured in the booking form (see previous image). In that case, playing the content will be possible only after entering the password.
Video recording Availability¶
The video recording will be kept for 28 days, after it will be permanently deleted without the possibility of recovery, so it is advisable to download it on your pc.If, at the expiration date, you have a GARRtv account with available DVR quotas, the recording will be automatically moved in your GARRtv personal area.